The Midland Mall
Midland Mall via mallsofamerica.blogspot.com
Jelly shoes were all the rage! Do you remember dragging your parents to the Midland Mall for summer clothes shopping and begging them for a pair?
Rocky Point Amusement Park
Summer's seemed to last forever when you were able to spend your days at the Rocky Point Amusement Park, riding the Music Express and the Corkscrew until you almost lost your chowder!
Benny's
Once school was finished and the temps started rising, you were probably begging your parents to take you to Benny's to buy a new Slip 'n Slide so the whole neighborhood could have a blast in your backyard!
Seekonk Twin Drive-In
via drive-ins.com
Going to the movies meant packing up the car and heading to the Seekonk Twin Drive in on Rt. 6 for a double-feature with your family!
Newport Creamery
Via Yelp
What was an 80's summer in RI without going to Newport Creamery for a "Supah Chippah" to help cool you off!
---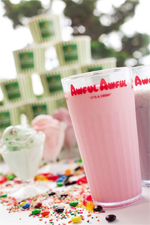 Best Summer Ever on LITEROCK105FM.COM is presented by Newport Creamery and Buy 1 Get 1 Free Awful Awful Mondays.
For real. You buy one, you get one absolutely free.
Now get there fast – and don't forget to LIKE them on Facebook by clicking here.
---